Len Wrays Moving & Full-Service Storage
There will be times when space constraints limit the number of belongings that you can take with you, or there may even be a delay moving into your new home, creating a need for secure storage services. In the case of a temporary relocation, it can be more efficient to move only the basic essentials.
Our Storage is clean, dry,
temperature controlled and secure.
Len Wrays Moving and Storage can pack and load your household goods from your residence, or other location, where we will then tag and inventory each item.
Your belongings will then be brought to our secure, climate controlled, warehouse where your items will be professionally placed into your private storage unit.
Short and long-term storage arrangements are available, as well as automatic payments options.
We have easy and convenient automatic payments. Our crew will then tag and inventory your items and professionally load your storage unit, and if you move out early we will pro-rate you the difference!
Important Information & Pricing: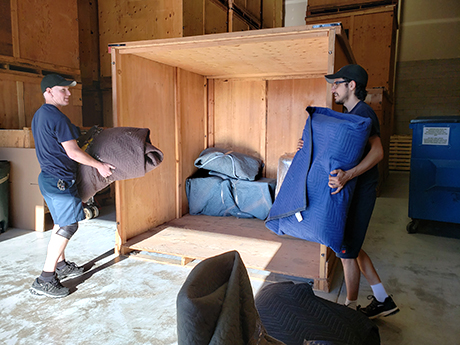 Len Wrays utilizes a method of storage known as "Block Stacking." In this method storage units are stacked on top of each other in a secure location.
Our storage units are 7' X 7' X 7' so they each hold approximately 350 cubic feet.
When you would like to access your storage unit, we require 48-72 hours notice, so that we can retrieve your unit for you and reserve our loading dock for your use. There is a $50.00 + GST fee each time you access your storage unit. If you require a mover to assist in unloading or sorting your storage pallet, there is a $50.00 + GST per hour charge for 1 man.
Each 7′ X 7′ X 7′ storage unit is $98.00 to $150.00 based on size and location + GST per month.
Piano storage is $50.00 + GST per month per unit.
Oversized items that are stored on our warehouse floor such as kayaks, appliances, custom built furniture, etc. are a minimum charge of $50.00 + GST per month. Charges are determined at the owner's discretion.
We are here to help with all of your household and commercial storage needs, just give us a call!
Len Wrays Moving & Storage Ltd.
Certified Professional Movers
Local: (604) 886-2664
Toll-free: (800) 775-5404
1052 Gibsons Way
Gibsons, BC V0N 1V7
Click for information on:
Moving Services – Packing & Materials – About Us
Residential, Commercial & Government Moving Services
Sunshine Coast – British Columbia – Canada – International