Packing Materials / Packing & Crating Services
Packing and Crating Services
Packing and Moving Supplies
Packing and Crating Services
Packing & Crating Services
When Len Wrays Moving and Storage professionally packs up your home or commercial business, you can trust that your belongings and business assets will arrive safely at their destination. Our highly skilled and trained packers will wrap your belongings in packing paper, tissue paper and/or paper pads before carefully placing each item in the appropriately sized box. They will mark each box with identifying information for optimum efficiency on the move and for unpacking.
Whether you'd like us to pack and prepare your home from start to finish, or simply look after your most fragile possessions, a Len Wrays Moving and Storage staff person can assist you in ordering the right packing services for your needs. We offer full packing and unpacking services.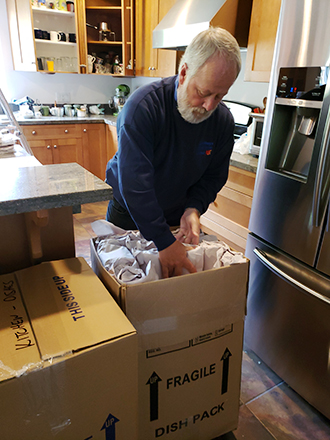 Custom crates can also be constructed to any size and shape needed to keep your belongings safe and secure.
If you decide to pack yourself, when moving with Len Wrays Moving and Storage, we offer numerous resources to assist you. Please see the tab above for more information on all of the different moving supplies we carry, at our local retail store, to help make your move go smoothly.
Let us know if you have any questions – customers find our office staff, Brian and Casie, to be very helpful.
Give us a call today at (604) 886-2664
*Visit our new Facebook page for the most up-to-date packing, moving and storing tips and tricks!
Len Wrays Moving & Storage Ltd.
Local: (604) 886-2664
Toll-free: (800) 775-5404
1052 Gibsons Way
Gibsons, BC V0N 1V7
Click for information on:
Storage – Packing & Materials – Contact Us
Residential, Commercial & Government Moving Services
Sunshine Coast – British Columbia – Canada – International
Packing and Moving Supplies